Get the Skills to Be an IT & Network Professional
IT and Network Systems Training in 2 Years*
Looking to gain skills in an industry with many career opportunities so you can improve your earning potential?
You should be!
The Information Technology industry continues to expand and has a high demand for skilled specialists. If you're ready to move up and create a brighter future with a rewarding career, Laurus College has the IT programs to get you there.
With your initiative and our support, we thrive.
Computer networking offers businesses, schools, small and large corporations, and families several benefits, including faster access to more information, improved communication and collaboration, and more convenient access to software tools.
All the Things You'll Learn
Many companies want to have a staff member who can maintain the company's personal computers (PCs), maintain their information systems, and support their non-technical PC users, while other companies need staff who can go onsite to service computer problems.
Among the topics covered in the Information Technologies and Network Systems Occupational Associate Degree program are:
Operating System Fundamentals
Administering Computers and Devices
Network Administration
Database Foundations
Information Systems Management
Information Security Foundations
Network Deployment
Project Management
Here's How You'll Grow with Us
Upon completion of the Information Technologies and Network Systems Occupational Associate Degree program, students should be able to:
Demonstrate proficiency with a WAN networking system
Set up remote access for a networked system
Analyze network security and understand how it is maintained and implemented in an organization
Identify tools, diagnostic procedures, and troubleshooting techniques for personal computers, laptops, peripherals, and operating systems
Perform preventive maintenance on personal computers, laptops, peripherals, and operating systems
Perform scholarly research
This fun, online quiz takes 3 minutes to complete and you'll get a personalized report. Identify your strengths and social style plus the training and positions you're best suited for. Get your IT Career Readiness Score Now >>
Where You Could Be After Completing Our Program
Information Technologies & Network Systems professionals provide technical assistance concerning the use of computer hardware and software as well as perform network maintenance to ensure networks operate correctly with minimal interruption. They may also plan, direct, or coordinate activities in such fields as electronic data processing, information systems, systems analysis, and computer programming.
Grads with IT & Network Systems training may find employment in a wide range of interesting and rewarding positions, including:
Database Analyst or Administrator
Information Technology Consultant
Information Security Specialist
Network Support Specialist
Computer Support Specialist
Computer Technician
and more!
With so many professional opportunities available to people with the right qualifications, Laurus can prepare you for a career that will take you to that next level in life.
The best way to see if Laurus College is the right fit for you is to see it for yourself. You can tour our facilities by coming in to any of our campus locations, or we're happy to set up a virtual tour with you. Book a Tour Now or Get more info.
You already have a life. We appreciate that!
If you're juggling work and a family, you're busy. Our unique learning model gives you greater freedom and flexibility to learn on your own schedule.
That means you're in control of your learning experience. All you have to do is take that first important step. Pursuing training with Laurus for a profession in the IT world, with all our dedicated support from Day 1 till you land that dream job, will be a wise move.
Our career-focused program helps you gain an understanding of how computer networks and information systems work, while preparing you for potential employment in the IT and network service fields.
With a program led by industry professionals, Laurus helps motivated people get the skills, experience and ongoing support to pursue successful careers.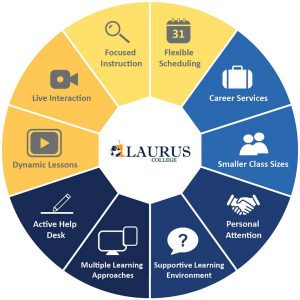 The Laurus Advantage
Practical, Career-Focused Training that prepares you for an in-demand career.
Supportive Learning Environment where instructors care about your success.
Flexible Scheduling Options that include both day and evening classes.
Laptop Included – Students attending classes in an Occupational Associate or Bachelor's Degree program are given the opportunity to receive a laptop computer loaded with all of the software needed to complete their program.
Job Search Assistance through our Career Services Department, including resume & portfolio creation, interview preparation and live workshops.
Is a Rewarding Career as an IT and Network Professional Right for You? Get More Info…
If you'd like to know more about the careers available to grads of our Information Technologies & Network Systems program and explore whether Laurus is right for you, fill out the form on this page to receive more information.
For immediate questions, call 805-267-1690
* Program length when completed in normal time.