Get the Skills to Be a Sound Designer or Video Technician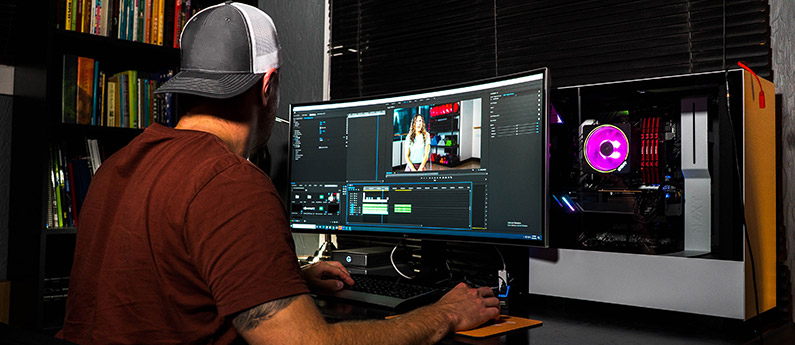 Audio Video Production Training in 2 Years*
The Associate of Science degree in Audio Video Production will allow students to develop skills in audio and video recording, editing, and production by introducing them to the techniques and methods of working with sound and video.
Students will learn audio and video theory, digital audio and video techniques, foundational skills for work stations, and processes in the daily workflow for audio and video production, including: various styles of sound recording and projection techniques, creating show design plans and working with logistics, and the principles of lighting, capture, composition, sequencing, and formatting. Students will also learn and use industry standard software in post-production to ensure that various audio components blend and align with video.
*Available only online and in California
Here's How You'll Grow with Us
The goal of this Associate Degree program is to help students develop the creative and technical skills essential to pursuing a successful career in the audio video industry. Students will be given the opportunity to acquire fundamental and advanced techniques used throughout the audio video industry by conducting research, practical application, and self-development.
As part of the curriculum, students will have the opportunity to develop skills in:
Audio Video Workflow
Digital Audio Processing
Digital Audio Theory
Digital Audio Workstation Concepts
Equalization and Frequency Balancing
Lighting Principles
Live Sound Mixing
Microphone Placement
Music Production
Projection Techniques
Show Deployment
Sound Design
Studio Production
Video Editing
Video Production
Video Storytelling
Video Techniques
Students will use industry standard software to explore different techniques used to produce studio audio, mix live audio, and edit video. Students will also be expected to develop a portfolio that can be used to seek employment within the audio video industry.
Learning Goals
Upon completion of the Audio Video Production Associate of Science degree, students should be able to:
Demonstrate knowledge of digital audio workstation concepts, workflows, and capabilities.
Effectively record, edit, and finalize audio.
Utilize knowledge of acoustics and sound reinforcement for purposes of audio production.
Employ technology to create music and sound design for film and video games.
Demonstrate knowledge of audio connectivity and gain staging.
Utilize knowledge of entertainment business to create relations and network with industry professionals.
Demonstrate knowledge of color correction and non-linear video editing applications.
Utilize knowledge of post-production techniques for both audio and video.
Effectively propose, package, and deploy audio video equipment.
Program Length: The Audio Video Production Associate of Science Degree program is 100 quarter credits and can be completed in two (2) years if the student attends all terms full time and consecutively.
Instructional Methods: The Audio Video Production Associate of Science Degree program is practical application and involves intense interactive learning. All classes are lecture based with practical application laboratory and computer time for students to enhance their skills and abilities. Interactive virtual classrooms are part of the instructional process at Laurus College. Instruction may be supplemented with guest speakers in class.
Communication and Critical Thinking Skills: Students in the Audio Video Production Associate of Science Degree program complete challenging projects and assignments by using creative problem solving skills. Students communicate ideas through written and oral presentations in various courses throughout the program.
Completion Requirements: Students wishing to obtain an Associate of Science Degree in Audio Video Production from Laurus College need to meet all program completion requirements. Students must have completed a minimum of 100 quarter credits, and be in good academic standing with a cumulative GPA of 2.0 or better to be eligible for an Associate of Science Degree.
The best way to see if Laurus College is the right fit for you is to see it for yourself. We're happy to set up a virtual tour with you. Book a Tour Now or Get more info.
Where You Could Be After Completing Our Program
Audio Video Production professionals engineer studio music, mix audio, and edit video electronic tools and media for use in products or creations, such as movies, music albums, live shows, and more.
Graduates with Audio Video Production training may find employment in a wide range of interesting and rewarding positions, including:
Audio Designer
Live Streaming Technician
Sound Editor
Camera Operator
Audio Visual Specialist
Videographer
and more!
The Standard Occupational Classification (SOC) system is used by Federal statistical agencies to classify workers into occupational categories for the purpose of collecting, calculating, or disseminating data. The Audio Video Production Associate of Science Degree Program offered at Laurus College can help prepare graduates for a variety of careers that include, but are not limited to the list of careers that may be listed under the following SOC codes (for more information on a particular SOC code, visit www.onetonline.org).
With so many professional opportunities available to people with the right qualifications, Laurus can prepare you for a career that will take you to that next level in life.
You already have a life. We appreciate that!
We offer online Associate Degree programs – and let you keep your day job while you learn. You can participate in live classes from the comfort of your home!
If you're juggling work and a family, you're busy. Our unique learning model gives you greater freedom and flexibility to learn on your own schedule.
That means you're in control of your learning experience. All you have to do is get the ball rolling. And training with Laurus for a career in audio video production, with all our dedicated support from Day 1 till you land that dream job, is a smart choice.
Develop your creative and technical skills in sound design, studio engineering, video production and live mixing, while also expanding your critical thinking and problem solving ability.
With a program led by industry professionals, Laurus helps motivated people get the skills, experience, and ongoing support to pursue successful careers.
---
Meet the Audio Video Production Faculty
[va-cta quiz_name="Audio Video Training Readiness" program="Audio Video Program"]
The Laurus Advantage
Practical, Career-Focused Training that prepares you for an in-demand career.
Supportive Learning Environment where instructors care about your success.
Flexible Scheduling Options that include both day and evening classes.
Technology Included – Students attending classes in an Associate or Bachelor's Degree program are given the opportunity to receive hardware and software specific to audio production needed to complete their program.
Job Search Assistance through our Career Services Department, including resume & portfolio creation, interview preparation and live workshops.
* Program length when completed in normal time.
Get the Skills for the Rewarding Career You Want
Is a fulfilling career and a brighter future right for you? Get more info...