Get the Skills to Be an IT Professional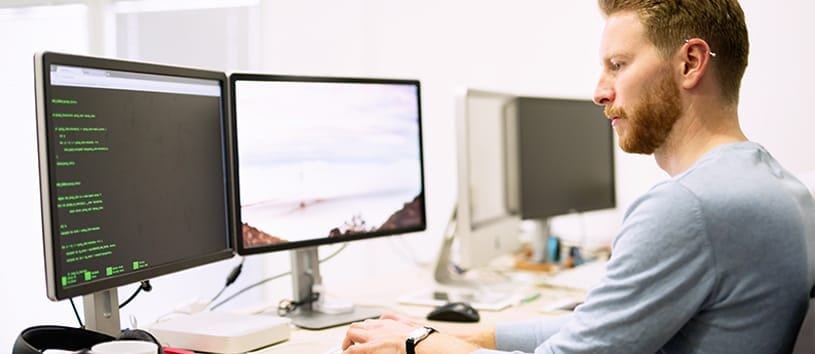 IT Systems Management Training in 190 Weeks*
Looking to gain skills in an industry with many career opportunities so you can improve your earning potential?
You should be!
The Information Technology industry continues to expand and has a high demand for skilled specialists. If you're ready to move up and create a brighter future with a rewarding career, Laurus College has the program to get you there.
With your initiative and our support, we thrive.
Our Bachelor of Science Degree program in Information Technology Systems Management prepares students to be knowledgeable and well versed in modern technology concepts.
The program is designed to help you develop the knowledge to offer technical assistance about computer hardware and software, and learn to perform maintenance to ensure networks operate correctly with minimal interruption.
Here's How You'll Grow with Us
The goal of this Bachelor's Degree program is to help students develop the technical skills needed for pursuing a successful career as an IT professional. This program covers fundamental and advanced skill development in a variety of IT related areas, while also providing the knowledge to successfully apply information technology theory and principles to address real world business opportunities and challenges.
As part of the curriculum, students will have the opportunity to develop skills in:
Operating System Fundamentals
Administering Computers and Devices
Technical Certifications
Network Administration
Database Management
Information Systems Management
Information Security Foundations
Network Deployment
TCP/IP and Subnetting
Software Deployment
Cyber Security
Web Server Administration
Enterprise Communication
Cloud Computing
Prepare with Laurus to take the CompTIA A+, Network+, and Security+ exams, to get the industry-leading credentials for IT professionals. Develop the knowledge you'll need to offer technical assistance with computer hardware and software, and learn to perform maintenance to ensure networks operate correctly with minimal interruption.
This program also provides students with the opportunity to effectively use information resources, conduct intellectual research, and communicate scientific knowledge based on today's technology requirements.
Is a Career in IT Right for You? Find Out!
Take the "Laurus College IT Career Training Readiness Quiz Quiz"
This fun, online quiz takes 3 minutes to complete and you'll get a personalized report. Identify your strengths and social style plus the training and positions you're best suited for.
All the Things You'll Learn
Communication: Demonstrate effective oral and written technical communication skills; communicate concisely, professionally, and accurately in various technical professional modes, including an ability to communicate effectively with a range of audiences about technical information. Demonstrate proficiency in communicating technical information in formal reports, documentation, and delivering presentations to users and information technology professionals.
Critical Thinking: Demonstrate critical thinking skills using the ability to analyze a problem, and to identify and define the computing requirements appropriate to its solution. Demonstrate the ability to use industry best practices in troubleshooting information technology issues.
Information Management: Demonstrate the ability to analyze, plan and support the impact of information and computing technologies overall effectiveness for users, organizations and enterprises on a global scale; effectively map information systems with organizational operational functions across an enterprise.
Networking Management: Demonstrate a thorough understanding of how to analyze complex network local area network (LANs), wide area network (WANs), and other critical data communications infrastructure across enterprises; manage, install and oversee safe and secure network data centers by applying modern technologies that will further enhance enterprise security.
Expert Knowledge: Demonstrate expertise knowledge of core information technologies that include web, database management, enterprise system security, computer architecture, operating systems, networking and system administration.
Application of Standards: Demonstrate competently applying best practices including standards to applications, information technologies, information security, network technologies, and system management.
Information Technology Foundation: Demonstrate knowledge of current market trends and innovative information technology in a rapidly changing global environment. Demonstrate the ability to disseminate direct comprehensive knowledge to organizational stakeholders.
Where You Could Be After Completing Our Program
Information Technology (IT) Systems Management professionals provide technical assistance concerning the use of computer hardware and software as well as perform network maintenance to ensure networks operate correctly with minimal interruption. They may also plan, direct, or coordinate activities in such fields as electronic data processing, information systems, systems analysis, and computer programming.
Grads with IT Systems Management training may find employment in a wide range of interesting and rewarding positions, including
Network and Computer Systems Administrators
Computer Systems Analyst
Database Administrator
Information Technology Consultant
Information Security Analyst
Network Support Specialist
Computer User Support Specialist
and more!
The Standard Occupational Classification (SOC) system is used by Federal statistical agencies to classify workers into occupational categories for the purpose of collecting, calculating, or disseminating data. The Information Technologies Systems Management Bachelor of Science Degree Program offered at Laurus College can help prepare graduates for a variety of careers that include, but are not limited to the list of careers that may be listed under the following SOC codes (for more information on a particular SOC code, visit www.onetonline.org).
With so many professional opportunities available to people with the right qualifications, Laurus can prepare you for a career that will take you to that next level in life.
The best way to see if Laurus College is the right fit for you is to see it for yourself. You can tour our facilities by coming in to any of our campus locations, or we're happy to set up a virtual tour with you. Book a Tour Now or Get more info.
You already have a life. We appreciate that!
We offer online Bachelor's Degree programs – and let you keep your day job while you learn. You can participate in live classes from the comfort of your home!
If you're juggling work and a family, you're busy. Our unique learning model gives you greater freedom and flexibility to learn on your own schedule.
That means you're in control of your learning experience. All you have to do is get the ball rolling. And training with Laurus for a career in IT, with all our dedicated support from Day 1 till you land that dream job, is a smart choice.
With a program led by industry professionals, Laurus helps motivated people get the skills, experience and ongoing support to pursue successful careers.
---
Meet the Information Technology Systems Management Faculty
The Laurus Advantage
Practical, Career-Focused Training that prepares you for an in-demand career.
Supportive Learning Environment where instructors care about your success.
Flexible Scheduling Options that include both day and evening classes.
Technology Included – Students attending classes in an Associate or Bachelor's Degree program are given the opportunity to receive hardware and software specific to audio production needed to complete their program.
Job Search Assistance through our Career Services Department, including resume & portfolio creation, interview preparation and live workshops.
* Program length when completed in normal time.
Get the Skills for the Rewarding Career You Want
Is a fulfilling career and a brighter future right for you? Get more info...