Admissions – All You Need to Know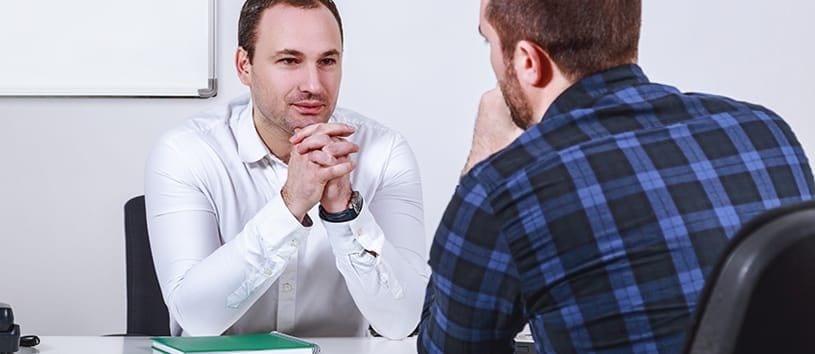 Getting Started Is Easier Than You Think
To apply for one of the Associate or Bachelor's Degree programs at Laurus College, prospective students should contact the college to reserve an appointment with an admissions representative. All prospective students are required to complete a personal interview with one of the school's admissions representatives, submit an application, and complete and sign an enrollment agreement.
For students who are applying by way of a third-party organization, the college will work with the student's agency counselor to initiate all enrollment processes after the required interview.
Initial applications may be submitted by prospective students completing his or her junior or senior year of high school; however, applicants will not be permitted to begin classes until submission of the appropriate documentation as referenced.
The President or designee is responsible for determining if an applicant has met all admission requirements. Once all the required documents have been received and the admissions criteria met, the enrollment agreement is signed by the President or designee and a copy of the signed enrollment agreement is sent to the student along with their acceptance letter.
In the event the prospective student does not meet the admissions criteria, the student will be notified in writing.
Admissions Criteria
Prospective students must have evidence of a high school diploma, or its equivalent, or verified evidence of:
Successful completion of an associate degree program;
Successful completion of at least 60 semester or trimester credit hours or 72 quarter credit hours that does not result in the awarding of an associate degree, but that is acceptable for full credit toward a bachelor's degree; or
Enrollment in a bachelor's degree program where at least 60 semester or trimester credit hours or 72 quarter credit hours have been successfully completed, including credit hours transferred into the bachelor's degree program.
When documentation of high school completion is unavailable and no information is available from another source such as the school district or state department of education, a student may provide alternative documentation, such as a military DD Form 214 Certificate of Release or Discharge from Active Duty that indicates that the student is a high school graduate or equivalent.
Prospective students must also demonstrate the ability to be successful in an online learning environment; and meet the technology requirements for participation in the program.
A preliminary assessment of the student's system capabilities and of the student's ability to succeed in a distance education environment is conducted by way of their participation in an admissions interview using the same technology platform that courses are delivered through.
Further verification that the applicant meets minimum technology requirements is accomplished during the Operating System (OS) Orientation using remote system verification software. During this orientation, students are also asked to demonstrate competency with navigating and using the various technology platforms within the Learning Management System (LMS).
In compliance with Civil Rights Legislation, Laurus College admits students without regard to race, gender, sexual orientation, national origin, ancestry, religion, creed, marital status, color, age, disability, or any other factor prohibited by law. Laurus College does not discriminate in its educational programs, placement procedures, or employment practices.
International Students
Prospective students whose native language is not English and who have not earned a degree from an appropriately accredited institution where English is the principal language of instruction must demonstrate college-level proficiency in English for admission. For an undergraduate degree, a minimum score of 57 on the paper-based Test of English as a Foreign Language (TOEFL PBT), or 61 on the Internet Based Test (iBT), a 6.0 on the International English Language Test (IELTS), or 44 on the Pearson Test of English Academic Score Report.
Arrangements to take the TOEFL may be made by writing to: TOEFL, Education Testing Services, P.O. Box 900, Princeton, New Jersey 08540, USA. For any academic credits earned at an International institution that the student wants to have considered for transfer credit, the student needs to have official transcripts fully translated into the English equivalent and sent directly to the school for evaluation. The translation of transcripts is to be completed through a company approved by, but not affiliated with, Laurus College.
Please note: All courses at Laurus College are taught in the English language.
Courses are delivered over the Internet through a synchronous and asynchronous e-learning platform using Moodle (Modular Object-Oriented Dynamic Learning Environment) learning management system (LMS). In addition to Moodle, the online courses use Adobe Connect. These delivery models allow for students attending via distance education to receive the same live instruction and interactive learning experience as students attending from an in-residence location.
A minimum Internet connection of 3 Mbps (Megabits-Per-Second) is recommended for students to participate in distance education. Students must also have a workstation that meets the following minimum requirements:
An Intel i3 processor or compatible
8G RAM
25G free space on the hard drive
Open GL graphics card (3D only)
3-button mouse
Keyboard
Video display (monitor)
Windows 7 OS
IE v10 or higher or Chrome browser
Webcam
1 Available USB port for a headset (to be supplied by Laurus College)
All student computer workstations located at in-residence locations meet or exceed the above specifications. Students enrolled in a degree program are provided a laptop computer that meets the specifications stated above as part of their technology fees.
All information regarding the student is kept in house and secured and is not available to anyone other than Laurus employees with a need to access the information and the student.
Transmission of information is encrypted which will protect student's identity and privacy. All student records at Laurus College are kept private in accordance with the Family Educational Rights and Privacy Act of 1974 (FERPA). Written consent must be provided by the student for release of records to outside parties, except for those agencies authorized by law.
The security of classes and verification of student identity are a priority for Laurus College and as such, the following systems are in place:
All classes are secure and are accessed through the MyLaurusPortal (MLP).
Students are scheduled for their classes according to time preference and courses needed and then registered into the appropriate class. In order to access their classes, students must log into their MyLaurusPortal (MLP) student account, which is password protected.
The student's MyLaurusPortal (MLP) account includes their picture and other identifying information.
Only when the student is logged into their MyLaurusPortal (MLP) account, can they access their class by clicking on the class link, which will then take them into the class resource page and into the classroom.
Student identity is verified through comparison with photo identification provided by the student at the time of enrollment with the institution and the student photo on the class roster. Instructors have access to the class roster in the MyLaurusPortal (MLP) which displays a visual image of the students who are registered in the class. The class instructor compares the image on the computer screen of the student logged into class with the student's picture on the class roster in the MyLaurusPortal (MLP).
If an image is not available, or if a student cannot be identified, the student must provide the instructor with photo identification immediately. A student who cannot provide proof of identity will be removed from the class by the instructor.
Students who have prior experience related to their program of study may request an assessment of skills in an attempt to waive the lower (100 & 200) level course(s) in his or her program. It is the responsibility of the student to schedule an assessment with the appropriate Program Director. Assessments for proficiency can be attempted one time, and need to be completed before the student is scheduled for the class which they are attempting proficiency credit for. A minimum score of 70% must be achieved on the proficiency exam to qualify the student a waiver of the course based on proficiency. A student who does not meet the minimum 70% passing score for the proficiency exam will be required to complete the course with the college and will be subject to all fees and charges for the class.
Students who previously attended an accredited or approved college or university (other than Laurus College) may be granted transfer credit. Only courses substantially equivalent in content and degree level, and in which the student earned a grade of C (2.0) or above, will be considered for transfer. Laurus College does not guarantee the acceptance of any credit into the college. It is the responsibility of the student to have all official transcripts forwarded directly to the school for review if transfer credit is sought. Official transcripts must be received prior to the student being scheduled for the class(es) for which he or she is seeking transfer credit for.
A student who does not agree with the initial transfer credit evaluation may request a secondary review through the Director of Education. If the Director of Education performed the initial transfer credit evaluation, the student may request a secondary review through the Chancellor.
There is no charge for the review of transcripts from other institutions. Laurus College does not accept transfer credit for non-General Education courses older than seven (7) years from the time of enrollment in their program without a waiver.
A maximum of 75 percent of the credits required for a degree program may come from transfer credit or a combination of transfer credit and experiential credit (other than those credits earned at Laurus College). Credit awarded for experiential or equivalent learning cannot exceed 25 percent of the credits required for a degree.
Transfer of credit into the school, and credit granted for proficiency, will count towards the student's total credits attempted and total credits completed in their program, which will affect the student's approved timeframe to successfully complete the program for which they are enrolled.
Notice Concerning Transferability Of Credits And Credentials Earned At Our Institution
The transferability of credits you earn at Laurus College is at the complete discretion of an institution to which you may seek to transfer. Acceptance of the degree you earn in the educational program is also at the complete discretion of the institution to which you may seek to transfer. If the degree that you earn at this institution are not accepted at the institution to which you seek to transfer, you may be required to repeat some or all of your coursework at that institution. For this reason, you should make certain that your attendance at this institution will meet your educational goals. This may include contacting an institution to which you may seek to transfer after attending Laurus College to determine if your credits or degree will transfer.
Is Professional Training for a Rewarding and In-Demand Career Right For You? Get More Info…
If you're interested in learning more about training for a fulfilling career and a brighter future, and exploring whether Laurus College is right for you, call 805-267-1690.
Get the Skills for the Rewarding Career You Want
Is a fulfilling career and a brighter future right for you? Get more info...