One of the main reasons businesses fail is because they can't drum up business. It may be that people just aren't finding you. In this new series, we are going to talk all about helping small businesses be found. The whole idea is to find ways to be seen. How do we make sure your business is seen and how do we create and grow a business.
We're going to talk about search engines. How do they work? What are they? How do you get seen on search engines? Are they worth paying for? What are better ways you don't have to pay?
We're also going to talk about why social media presence is so important. Companies have to interact with their audience. We need to provide valuable content to succeed. Before we can ask customers to buy something we have to earn that right by being entertaining, interacting, and giving people content.
Finally, we are going to talk about how you can build and maintain a presence on the web itself. How you can launch a website quickly and easily and ways to keep that site up to date.
Search Engines
Over 93% of all internet activity begins with a search engine. A great deal of web traffic starts at google results. So how do we get into that space? There are two ways to get onto google: Pay or play the content game.
Pay vs Play
For now, let's focus on search engine advertising. For small businesses, this is one of the first places that you might want to consider putting some money. Even a small budget can have some real returns. Search engine advertisements allow you to pay to rank for specific keywords. The idea is that when someone is looking for something related to what you do it gets you in there. It lets you compete with larger brands.
Google AdWords
Google AdWords is a shortcut to the top of the search engine ranking. It's how you "pay to play."
AdWords is like an auction that is weighted by keyword intent, site quality, and several other elements such as geographic area. AdWords is quick to apply and it is easy to create ads. You can have a campaign live in minutes and you only pay when the user clicks.
When done correctly, ads are being shown to people who are intending to purchase and it hits users in places they are used to seeing ads and interacting with companies.
Benefits to AdWords
Ability to target your ads
As we've discussed in previous blogs, targeting specific groups of users is the best way to increase conversions. Google AdWords allows you to select the demographics and behaviors you want to target. For example, you can target potential customers within a particular age range, household income, or parental status. You can also target users by their physical location, their hobbies, or where they are in the sales funnel.
Ability to control your budget
There's no minimum advertising spend and you only pay when ads are clicked. Google Ads allows you to either manually set your bids or let google automatically decide what to spend.
Ability to measure your success
AdWords allows tracking of every action and monitoring customer behavior to find out what is working and what is not working.
Impressions – How often your ad was shown on a search result page
Click-through Rate (CTR) – This shows how often people are clicking the ad
Conversion Rate – The percentage of those who clicked that ended up converting
Cost per Acquisition (CPA) – How much you spend to get a single conversion
Return on Ad Spend (ROAS) – Details how effective your ad spend is
How do you get to the top of Google Ads?
The order in which ads are shown on Google is called the ad rank. Like getting to the top of organic search engine results, there are things you can do to help your paid ads show up at the top ad rank.
Ad Budget
Google determines who is shown first using a monetary auction. First, they determine which ads match the user's search out of all the possible ads. Then, google ignores ads that aren't eligible (likely due to geographic, demographic, or other restrictions). Then Google looks at the quality score of each ad and weighs their monetary bid accordingly. The better the quality score, the more your dollar amount will count at auction time.
Quality Score
At the core, the bid is monetary, but you can influence your bid by increasing your Quality Score. The Quality Score of your ad can be improved by increasing the expected click-through rate, the landing page experience, the relevance of the ad, and the use of Google ad extensions.
The expected click-through rate is how likely Google thinks users will click on your ad. This can be improved by making your ad more compelling, ensuring details match the keyword, using call-to-actions, and highlighting unique benefits.
The landing page experience is the quality of the page people are sent to when they click the ad. Pages that are fast, easy to navigate, related to the keyword, mobile-friendly, and have a consistent message.
Ad relevance refers to how relevant the ad is to the user's keywords. Improve relevance by closely matching ad language to the keyword, making your ads more specific, and grouping keywords into themes
Google allows you to extend additional information in your ads using ad extensions. These extensions can highlight your business address, phone number, additional links, product options, or unique product benefits.
Setting an Ad Budget
Depending on your industry, you should be spending around 7-12% on marketing. You may need to spend more depending on your campaign goals. Knowing the value of a conversion is key. Google allows you to set a budget for each campaign that indicates how much you are willing to spend that day. Once that budget is reached, your ads will stop showing that day.
The amount you need to spend depends largely on your goal
$$$ Build awareness – Expensive because it takes longer to see results
$$ Influence consideration – Mid funnel searches require a medium to large budget to reach a wider range of users
$ Drive action – Driving conversions is generally targeted at a smaller, more specific audience
Another thing to keep in mind is that bids can be adjusted based on different factors. For example, you can bid more for customers using a mobile device, those within a certain geographic location, or even time of day.
Online Resources
Here are some websites to check out. Most notably, I recommend Google Skillshop. It's free, you just need a google account. These are really great easily digestible, free courses and you can earn a google certification in each item.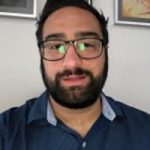 About Brad Koyak
In 2nd grade we all had to go around the classroom and state what we wanted to be when we grow up, all the other kids picked a fireman, policeman, doctor, I chose Ad-man. Graduated with my BFA in Advertising Design, M.Ed in Curriculum and Instructional Design, and an MS in Educational Psychology. I have spent my career walking the thin line between design and advertising campaign development. I spent the last five years specializing in Digital Marketing.