This article was originally published on November 12th, 2013. It has been updated with new information for 2021.
What is Information Technology?
Information technology (IT) is really a catch-all term. It encompasses a wide variety of careers and studies of computers and computer systems. While software engineers, programmers, web designers, or social media managers might find themselves working in a company's information technology department, the term IT has come to be synonymous with a person who builds and maintains computer systems.
These systems include working with both hardware and software. An IT technician's job may be recommending, purchasing, assembling, and supporting the actual physical components of a computer. Another possible job includes installing and configuring software such as operating systems.
Types of Information Technology Careers
There are multiple types of Information Technology careers to choose from. The jobs mostly come down to a combination of building, maintaining, analyzing, protecting, and assisting.
Information Technology Building Jobs
These roles are responsible for researching, purchasing, and building hardware and software solutions for the company. They might build new computers, install and configure operating systems, or create and implement databases or other software solutions.
Possible Job Titles:
Computer Network Architect
Database Administrator
Information Technology Maintenance Jobs
A maintenance job in IT is someone who works daily to keep systems running smoothly. They are always on the lookout to improve the functionality of the hardware or software in their charge. These types of jobs often require some coding knowledge as well as an understanding of operating systems and the day-to-day technology used by the company.
Possible Job Titles:
Network Engineer
Computer Network Support Specialist
Information Technology Analyzing Jobs
Analysts review collected data and make recommendations based on that information. An IT professional analyst will make reports on network metrics and suggest ways to improve performance. They may keep track of hardware usage, ensure technology is up-to-date, or keep records of activity.
Possible Job Titles:
Computer System Analyst
IT Coordinator
Information Technology Protecting Jobs
Cyber security is a very important job. An IT professional in charge of security has to constantly ensure that data is protected. A security engineer must stay up to date on all possible intrusions, malicious software, operating system patches, and social engineering schemes such as phishing and ransomware.
Possible Job Titles:
Network Security Engineer
Information Management Specialist
Information Technology Assisting Jobs
While most information technology jobs revolve around computer hardware and software, there is also a need for people who can support human-computer interfacing. There is a need for IT technicians to provide instructional support, manage internal technical issues, and replace outdated or broken equipment.
Possible Job Titles:
Computer User Support Specialist
Chief Information Officer
Benefits to Information Technology as a Career
There are many benefits to information technology as a career. Because technology is needed in nearly every industry, IT jobs are always in demand. Secondly, because of the ever-changing landscape of technology, IT jobs are fast-paced and dynamic. Because it's such a large field there is a huge variety of career opportunities to suit every type of personality. Jobs in the information technology field tend to be high pay and offer flexible and unusual work environments.
Information Technology Careers are In-Demand
Information technology jobs are prevalent in nearly every industry. Regardless of their size, all companies are in need of technological support. Large companies often have full-time staff to keep their networks running smoothly. Smaller companies may hire a service for maintenance, much like you'd hire a plumber or a gardener for your house. IT careers are both plentiful and in demand.
According to US News, an IT Manager is one of the top 15 in-demand jobs for 2022 and #3 on their list of best technology jobs. Information Technology jobs such as the following all rate highly as jobs on their top 100 list
Information Security Analyst
Computer Network Architect
Database Administrator
Computer Systems Administrator
Fast Changing Industry
The field of information technology has grown exponentially since computers first became used for commercial usage in the 50s. The 1980s saw the rise of the personal computer, the 1990s brought the world wide web, the 2000s introduced us to mobile devices and the 2010s brought cloud computing and connected devices through the internet of things. As we look to the future, personal data, security, and more and more connected devices will bring a need for additional information technology workers.
Quick Employment
The Bureau of Labor Statistics reports that the field of Information Technology as a whole will rise by 10.47% between now and 2030. Individual jobs are projected to have even greater growth. Information Security Analysts, for example, are projected to grow as much as 33% between now and 2030 according to the U.S. Department of Labor. Forbes reports five IT jobs on their list of the 30 fastest growing jobs and careers over the next 10 years.
Variety of Career Opportunities
As discussed previously, IT is an ever-expanding field with a little something for everyone. Jobs for extroverts and introverts, tinkerers and mathematicians, gamers and engineers, and many others are out there, limited only by the imagination itself.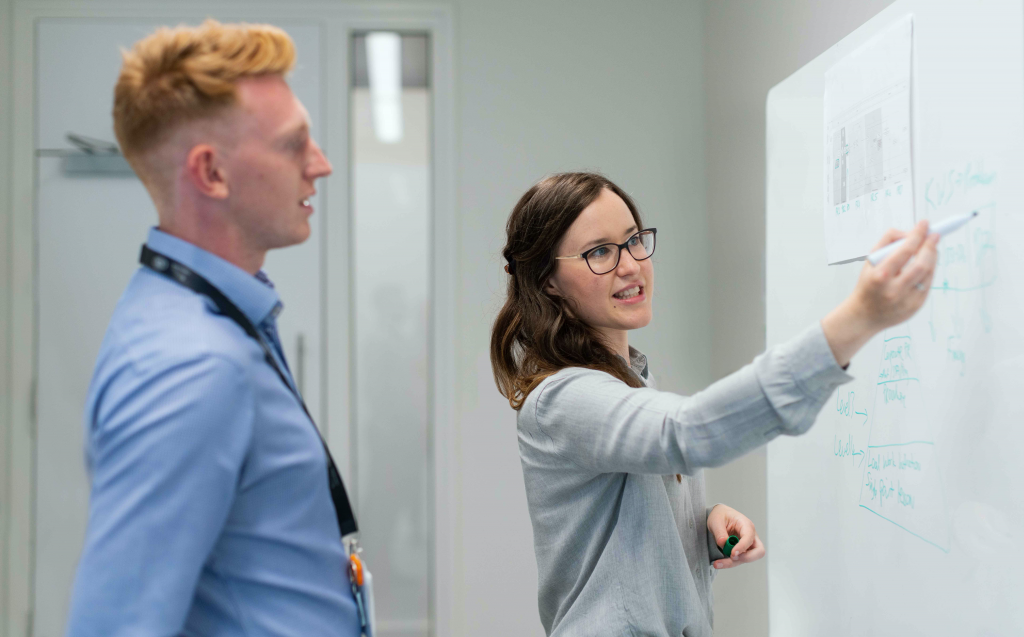 High Salary Rate
Another benefit of a job in the information technology field is its high salary rate. The website payscale.com reports that the average yearly base salary in the information technology field is $82,000. In addition, senior positions such as Senior Project Manager or IT Director have an average base pay in the 100k range. The U.S. Bureau of Labor Statistics reports a median annual wage for computer and information technology occupations as $91,250 in May 2020.
Work Environment
While many information technology jobs spend the majority of their time in an office, there are often opportunities for travel. Jobs that require consulting or training often have employees flying to different branch locations. Some even allow for permanent remote work allowing employees to live anywhere they wish. In addition, information technology jobs sometimes require physical activity such as climbing ladders and pulling cables.
Ready to Get Started in an Information Technology Career?
The Information Technology and Systems Management program at Laurus College delivers a solid entry-level foundation to the world of technology using industry-standard structure and curriculum. Laurus College offers both an Associate of Science degree in Information Technologies and Network Systems and a Bachelor of Science degree in Information Systems Management.
We will not only teach you the skills you need to start a career in Information Technology but also help you apply those skills you attain to the world of computers and networking.
Get the Skills for the Rewarding Career You Want
Is a fulfilling career and a brighter future right for you? Get more info...