COVID-19 Information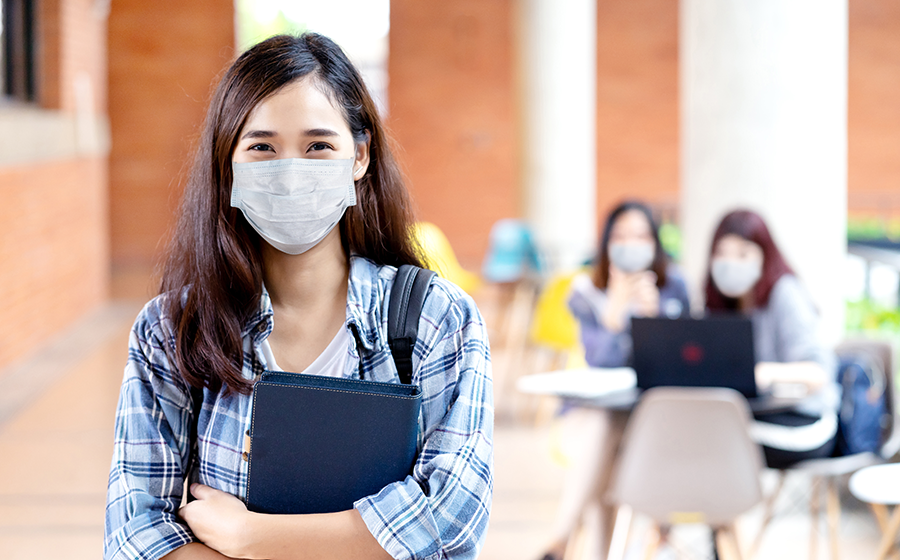 In-Residence Location Operations
Laurus College's in-residence locations are operating during regular business hours, 8 AM to 5 PM Monday thru Thursday and 9 AM to 4 PM on Friday.
Students who wish to access one of the College's facilities after hours (Monday thru Thursday until 10 PM) can make advance arrangements by notifying Student Services either through phone 805-267-1690 or email studentservices@lauruscollege.edu.
Please call 805-267-1690 to make an appointment for any of the following:
All classes are being held, as scheduled, via the MyLaurus Student Portal (MLP).
If you need any assistance, please contact us either by phone 805-267-1690 or by email:
---
COVID-19 Information and Resources
Per current CDC and California Department of Health guidelines the following will be in effect at every in-residence location until further notice:
Masks are required for all individuals at an in-residence location, regardless of vaccination status.
Please follow social distancing of at least six (6) feet.
Please do not visit an in-residence location if you feel sick or have tested positive for COVID-19 within the past two weeks.
In addition, we encourage you to practice Social Distancing. Social Distancing means limiting potential exposure from others by avoiding contact and high-risk areas.
Social Distancing Examples
• Avoid contact greetings (handshakes and hugs).
• Avoid large crowds and gatherings.
• Avoid non-essential travel.
• Attend meetings and events remotely when possible.
Please be safe and stay healthy!
CDC Guidelines
To help prevent the spread of illnesses (including COVID-19), please follow the Centers for Disease Control and Prevention Guidelines:
1. Avoid close contact.
Avoid close contact with people who are sick. When you are sick, keep your distance from others to protect them from getting sick too.
2. Stay home when you are sick.
This will help prevent spreading your illness to others.
3. Cover your mouth and nose.
Cover your mouth and nose with a tissue when coughing or sneezing. It may prevent those around you from getting sick.
4. Clean your hands.
Washing your hands often will help protect you from germs. If soap and water are not available, use an alcohol-based hand rub.
5. Avoid touching your eyes, nose or mouth.
Germs are often spread when a person touches something that is contaminated with germs and then touches his or her eyes, nose, or mouth.
6. Practice other good health habits.
Clean and disinfect frequently touched surfaces at home, work or school, especially when someone is ill. Get plenty of sleep, be physically active, manage your stress, drink plenty of fluids, and eat nutritious food.
Recommended Websites:
---
Information for Veterans
***Update (December 2021)***
On December 21, 2021, President Biden signed the Responsible Education Mitigating Options and Technical Extensions Act or the REMOTE Act into law
Section two of this law extends the various COVID-19 protections for GI Bill® students from December 21, 2021, to June 1, 2022. In part, this means that students who were attending a course that was converted to online training because of COVID-19, and were getting paid the resident rate, may continue to train online, and will continue to receive the resident housing rate until June 1, 2022.
——————————-
Important GI Bill Update- Veterans' GI Bill benefits to continue during COVID-19 pandemic (March 2020)
President Trump signed into law S. 3503, March 21 which will enable the Department of Veterans Affairs (VA) to continue providing the same level of education benefits to students having to take courses online due to the coronavirus (COVID-19) outbreak.
The law gives VA temporary authority to continue GI Bill payments uninterrupted in the event of national emergencies, allowing for continued payment of benefits even if the program has changed from resident training to online training.
Thanks to the law, GI Bill students will continue receiving the same monthly housing allowance payments they received for resident training until Dec. 21, or until the school resumes in-person classes.
What should GI Bill students know?
Students receiving GI Bill benefits are not required to take any action. Benefits will continue automatically. VA will work closely with schools to ensure enrollments are accurately certified and processed timely. Updates will be provided to students via direct email campaigns and social media regarding VA's effort to implement these new changes.
Students with specific questions can contact the Education Call Center at: 888-442-4551 between 8 a.m.-7 p.m. Eastern Time, Monday-Friday.
---
A Letter From the Chancellor
Dear Students.
In recent days, we've experienced an incredible disruption in our daily lives due to the COVID-19 virus. In an effort to slow the spread of the virus, public schools have closed, as well as many businesses. For many, this means juggling parenting duties, helping with school work, and trying to keep up with your own studies, all while feeling the fear and anxiety of current events.
In this moment of uneasiness there is opportunity.
While the world around us is slowing down and pulling away we have a chance to take control. We must forge new paths and embrace new methods of connecting. By focusing on your classes and interacting with your peers and instructors, you will not only continue moving forward in your career, but also gain a community that will help alleviate some of the anxiety we are all experiencing during this crisis.
Through this shared experience, we will find strength to make it through these challenges together!
Your instructors are available and ready to work with you. They are dedicated to creating and maintaining an engaging and collaborative classroom environment and in assisting you and your classmates with assignments and projects. They are here to facilitate your learning, to review, explain, and demonstrate the course materials, all while helping you to make the best use of your time and energy.
Additionally, there are many other resources available to you. Student Services, peer mentors, tutors, tech support—all are ready to offer their guidance and assistance.
As students, you've demonstrated your commitment to yourself and to your success. Though this may be a challenging time, I am confident that with the support of everyone at Laurus College, we will all continue to be successful.
---
COVID-19 Posts
A "Story" of Positive Change
This is the story of this year's Laurus College Reading Tutor Program which offers a great opportunity for participating students to grow and develop skills and confidence while also serving their local community.
The Benefits of Kindness
Would you like to share some words of encouragement or share a positive story? There's no better time than now to share a little kindness with others.
Reading Tutor Videos
Aaron Naugle, a current Laurus College Bachelor of Science in Digital Arts and Computer Animation student and Reading Tutor, became the first reading tutor to "produce" videos that are being shared with children who are members of the Boys & Girls Club of the Mid Central Coast – we are amazed at the great job he has done!
We encourage you to take a few moments to enjoy his amazing creation!
Video List:
His videos are also available on the Laurus College YouTube Channel.
---
Higher Education Emergency Relief Fund (HEERF) Reporting
Laurus College signed and returned to the Department of Education the Certification and Agreement, assuring that Laurus intends to use, no less than 50 percent of the funds received under Section 18004(a)(1) of the CARES Act to provide Emergency Financial Aid (EFA) Grants to students.
Laurus College received a total of $295,538 from the Department of Education pursuant to the institution's Certification and Agreement for EFA Grants to Students.
There were an estimated 393 active students at Laurus College who were determined eligible to receive EFA Grants. Students were determined eligible if:
1) He / she was eligible to participate in programs under Section 484 in Title IV of the Higher Education Act of 1965
and
2) Are enrolled to attend classes from a Laurus College in-residence location or learning site.
As of the College's most recent Reporting Period (9/30/2021), there have been a total number of 144 students issued EFA Grant funds and a total amount of $295,538 distributed.
Laurus College made multiple contact attempts (email, phone, text) to students who were initially determined eligible for the EFA Grant. Students were then required to complete a short application to establish that he or she incurred educational expenses related to the disruption of in-residence location operations due to Coronavirus.
Before a student could be issued an EFA grant, he or she was required to attest that the funds received would be used solely toward educational expenses related to the disruption of in-residence location operations due to Coronavirus. Grant amounts were based on need and Pell eligibility.
Laurus College also received a total of $295,538 institutional funds from the Department of Education pursuant to the institution's Certification and Agreement. Click here to view the Final HEERF Report submitted 10/30/20.
Get the Skills for the Rewarding Career You Want
Is a fulfilling career and a brighter future right for you? Get more info...