Despite being a web designer and digital marketer, I have very little personal experience with many of the current social media platforms. As social media becomes more and more important for the sales funnel, I decided it was time to immerse myself in the culture of the top sites. I wanted to experiment: What can I learn about a platform after immersing myself in it for 30 days?
Initial Thoughts
The first week I was determined mostly to just soak up the culture. TikTok is unique in that it is completely video-based. I spent my first few hours simply swiping up and watching videos that the system recommended to me.
I quickly learned that TikTok is a rather silly place. Most of those first videos I saw had the feel of a small group of people who had collectively decided to film themselves doing something ridiculous.
Here's a quick rundown of my first few videos:
Most of these videos seem intended to feel like they just happened, but of course, each of these content creators has practiced their dance, joke, skit, song, or prank. Many TikTok videos are far from perfect despite being the fourth or fifth try at filming. In a way, having mistakes make the videos more charming because they feel very authentic.
I spent the majority of my 30 days on TikTok, swiping, watching a few seconds of a video, and either deciding to finish it or swiping again to see something else.
What Makes TikTok Stand Out
When TikTok is at its best it feels like the end product of a good time with your friends. The best videos feel like someone started with "You know what would be funny…" and then they attempt to film it. It's the social media equivalent of junior high school kids making up dances during sleepovers.
TikTok also works when those same people are simply laying on the couch together. It's very easy just to swipe through, find something that makes you chuckle, and show it to your buddies.
TikTok fills a hole left by the "legitimization" of YouTube. Most YouTube videos now are polished and packaged by people who clearly spend a lot of time creating them for views. That content is also prevalent on TikTok, but there is lots of original organic content as well.
TikTok Features
One of TikTok's main features is their For You Page. This is an endless feed of videos that the TikTok algorithm has decided are videos you would like to watch. TikTok determines these videos based on your likes, shares, views, favorites, and even what you upload. The for you page is their way of saying "Hey we know you like this but you probably don't know that you like this so check it out". We recently had a Meet TikTok article on this very topic.
Unlike Twitter or Facebook, sound is very important on TikTok. One interesting thing you can do on TikTok is creating a video using someone else's audio. This leads to a LOT of lip-synching, people creating re-enactments, or just using silly songs over their pets dancing. You can also search by specific sounds so you can see videos that all use the same music or sound effect.
TikTok Trends
Because videos are easy to make, trends move very quickly on TikTok. Here are some of the trends I saw in the thirty days I spent researching for this article:
Go Little Rockstar – Overlaying this song on a critter or person trying their best or to emphasize a sad story.
Helicopter Helicopter – Overlaying this song over something spinning.
Unlock it Challenge – Making yourself look like a celebrity or fictional character to unlock their phone via face ID.
The Ring Light Challenge – Starting with a normal look and switching to a second or "transformed" look as the song changes.
Elmo's Paper Towel Roll – Using this song along with someone holding the objects. I also saw more than one video of someone opening a Christmas present containing these items with the overlaid song.
Encanto – The Disney movie was released on Disney+ recently and there is an explosion of videos based on it. I'm planning on trying to make these!
Staying on top of Trends
If you're interested in staying on top of TikTok trends I'd suggest taking a look at this article on slayingsocial.com. They also suggest following specific accounts to better be aware of current trends. If you'd like to incorporate trends into your social media marketing, it's best to do them quickly before they get stale.
TikTok and Brands
At first, I found it was sometimes difficult to tell if a video was sponsored content. For example, is the video where a guy squirts an entire bottle of Redi-Whip into his mouth while holding the label framed an ad or just a coincidence? Are the prank videos that clearly take place in a Target paid for by Target?
Sometimes it's very obvious. In one video a content creator is cooking eggplant parmesan with some gratuitous camera shots of fancy branded knives. In another, the creator displays a package of cheese while showing you how to cook a dish.
This doesn't mean sponsored content is bad. The knife company pays the content creator to use their knives. The content creator creates more videos and both he and the company get to brow their brand. The concept of content that is also an ad is a dream for digital marketers. The best sponsored content is so integrated that you don't even realize it's an ad.
Branded Content Examples
Final Thoughts
Watching videos on TikTok was honestly more fun than I thought it would be. I didn't interact with people as much as I intended to, but spending about half an hour a day scrolling through videos I did get a good sense of the culture. I've found myself humming things from videos (…and a paper TOWEL ROLL) and I think it's a great way to get your business some extra views. We'll be exploring more on that topic in the future.
I'm going to leave you with what might be my favorite TikTok so far.
See you next month for Pinterest!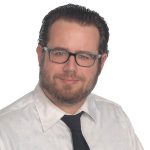 About Jeffrey Staso
Jeffrey Staso has been teaching web design at Laurus College since 2011. He holds a B.S. in Telecommunications, Multimedia, and Computer and a M.S. in Instructional Science and Technology.
Get the Skills for the Rewarding Career You Want
Is a fulfilling career and a brighter future right for you? Get more info...